Hello,
In an effort to continuously improve our services, and in
response to numerous requests from our members and the difficulties
they have had to host their Javascripts files on an external service,
we offer you today a new update for
hosting your own JavaScript & jQuery codes directly on your forums
.
This new feature has appeared in your
admin panel>> Modules>> HTML & JavaScript>> JavaScript codes management
Enlarge this image
Reduce this image
Click to see fullsize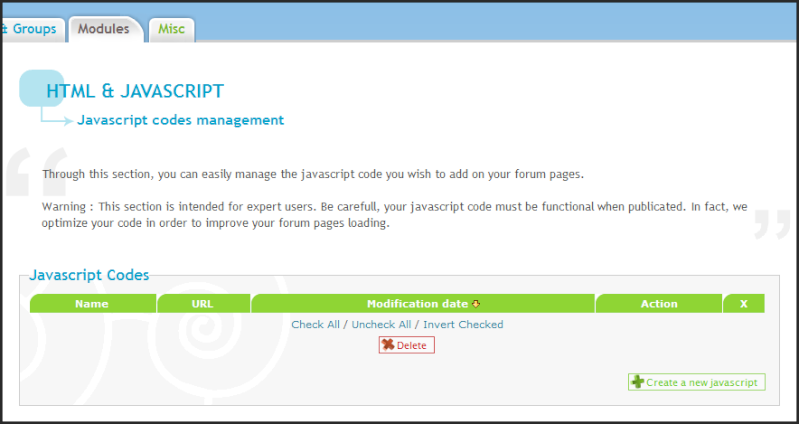 With this new feature, you can easily
host and manage the javascript codes you wish to place on your forum pages directly from your administration panel
.
Therefore, your scripts can be automatically called on the pages of
your choice and are directly inserted into the head section
<head>...</head>
of the page.
Enlarge this image
Reduce this image
Click to see fullsize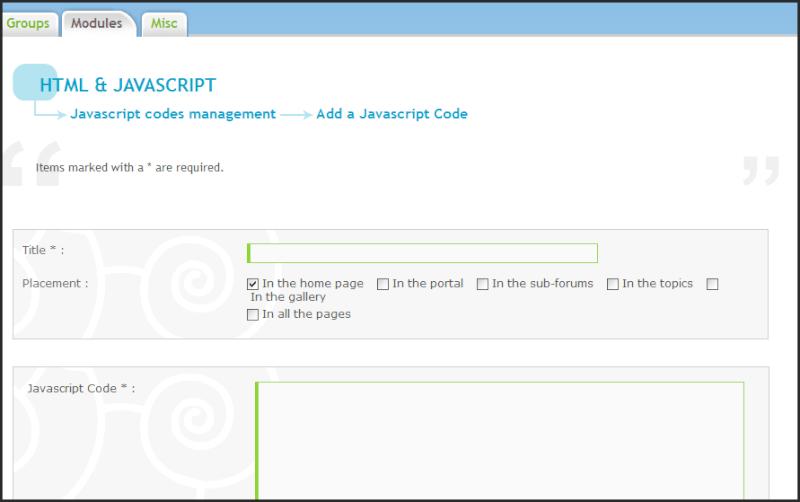 These scripts are of course available for editing and / or deletion from your JavaScript code management in the admin panel:
Enlarge this image
Reduce this image
Click to see fullsize
The
applications of this innovation are endless and can completely
transform your forum. They are limited only by your imagination and
your JavaScript skills ... ;)
For members with a forum on PhpBB2 or PunBB version and with modified templates overall_header

You will need to update your own custom overall_header template by searching the code

Code: ----------Select content<!-- BEGIN google_analytics_code -->

then adding this code before it:

Code: ----------Select content{HOSTING_JS}

See you soon with other innovations
Forumotion
Staff

http://help.forumotion.com/t92693-new-update-javascript-code-management




الجنس

:



عدد المساهمات

: 1585


النقاط

: 41214


التقييم

: 34


تاريخ التسجيل

: 2010-02-03





Similar topics
---
Permissions in this forum:
You
cannot
reply to topics in this forum