Design & Illustration Software
Inkscape 0.48.2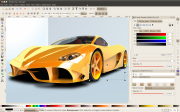 Inkscape is an open source SVG-based vector graphics editor that comes with a host of high-end, professional features.
You get a lengthy list of drawing tools, for instance, quick ways to
create rectangles and squares, circles and arcs, spirals, polygons, 3D
boxes, Bezier curves, straight lines and more. But there are also
interesting sculpting and painting options, a lengthy list of path
creation and editing options, and some very powerful text tools.
In common with other SVG editors, you're able to scale objects in a
click or two, group and ungroup them, apply colours, gradients and
strokes as required, align and combine objects, trace bitmaps and more.
And there's direct support for many advanced SVG features, like alpha blending, markers and clones.
There is a price to pay for this, as the learning curve is a little
steep: you'll need to invest plenty of time and effort before you've
properly mastered everything that Inkscape can do. If you need a good
vector editor then it's well worth the effort, though, as Inkscape
provides many of the same features as Illustrator for no cost at all.
Verdict:
It
can be a little complicated, but take the time to master the basics and
Inkscape will give you plenty of vector editing features and
functionality
http://www.downloadcrew.com/article/13510-inkscape
Xara Designer Pro 7.1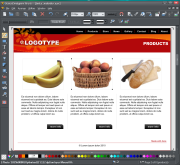 Xara Designer Pro (formerly known as Xara
XtremePro) is a versatile application with tools for all your graphics
and design needs.
You could simply use the program to edit photos, for instance. Open
an image and you can rotate or crop it, optimise brightness and colours
at a click, manually tweak levels if you prefer and then sharpen or
blur the photo. Support for Photoshop plugins means access to all the
effects you'll ever need. And new features include Clone and
Perspective Correction tools, while content-aware resizing enables you
to zoom in on the subject of a photo, while preserving other parts of
the image.
If you'd like an easy way to get creative with your photos, then
look no further than the Designs Gallery, which includes templates for
greeting's cards, invitations, scrapbooks, certificates, photo albums,
CD and DVD covers and labels, brochures, business cards, Flash
animations and more. (Only a few of these are available in the trial
version, but thumbnail previews of the others provide a good idea of
what you're getting.)
Whether you're working on a built-in template, or creating a project
from scratch, you'll appreciate the many powerful design tools: vector
drawing, 3D extrusions, transparency and blend tools, shadows, bevels,
contours and more.
There's a complete WYSIWYG web design tool, allowing you to create
complex, multi-page sites with pop-up and mouseover effects, navigation
bars and menus (no HTML experience required). Customise these with
widgets to add e-commerce, media sharing, social networking and other
features, then preview and publish your work in a couple of clicks.
You also get Panorama Studio, a useful tool for creating photo
panoramas; multi-core CPU support to improve performance; colour
separation and PANTONE colour support; and export options that now
include PDF, PDF/X and XPS.
Note the above review applied to Xara Designer Pro 6 This is the
brand new v7 which ships with a whole host of new features, such as a
Photo Magic Erase Tool which will remove unwanted objects from photos,
'magic snap' for object alignment, tabbed document windows and lots of
new features for web designers. See the
What's New
information for more detailed v7 new features.
Verdict:
Xara
Designer Pro is a very powerful graphics and illustration tool. The
built-in design templates help you get productive early on
http://www.downloadcrew.com/article/10772-xara_photo__graphic_designer
MAGIX Website Maker 5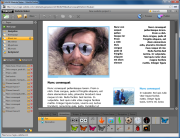 MAGIX Website Maker 5 is an easy-to-use
tool for creating stylish Flash-based websites, even if you've no
previous web design experience.
While you must download and install a local component to use Website
Maker, it actually runs in your web browser (as long as it's IE,
Firefox or Opera, anyway). The site creation process works much like
any other tool, though. So you browse a lengthy list of attractive site
templates, each of which comes with multiple pages and built-in
navigation, and choose one you like. Then you replace the default text,
images, music or videos with your own content. And finally you publish
the site and share it with the world.
This generally works quite well, as there are lots of customisations
available. Would you like to create a thumbnail photo gallery, for
instance? Website Maker comes with ten different gallery styles - but
that's just the start. You can also present your images in animated
filmstrips, or choose from one of 18 "photo tables", where your
thumbnails are scattered attractively across a variety of backgrounds.
Just find an option you like and it's ready to use in a couple of
clicks.
There's even more configurability elsewhere. If you'd like a Flash
media player on your site, for instance, there are more than 80 options
available. And your site can easily be customised with many other
components: music players, contact forms, guestbooks, visitor counters,
embedded Google maps, YouTube videos and more.
And once you've finished, the program will publish your pages with
the minimum of hassle. A notable issue here is that you can only use
Website Maker to create and manage four separate sites, three of which
must all be based around the same MAGIX URL
(http://your-name.magix.net).
The package does allow you to register and use another domain at no
extra charge, though (
www.your-name.com,
for example), and comes with
5GB of online hosting space, so if you're really only interested in
creating a single main site then it may be enough. And if it's not,
upgrading to Website Maker Deluxe will allow you to create as many
sites as you like: click More > Upgrade within Website Maker for the
details.
Verdict:
Well
designed templates and some impressive Flash components ensure that
Website Maker 5 can quickly build a stylish and impressive site. Keep
in mind the domain limitation, though - you can use the program to
manage a single non-MAGIX URL only, which may be a problem for some
http://www.downloadcrew.com/article/21231-magix_website_maker
Xara Web Designer 7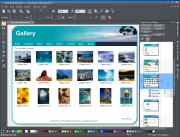 Xara Web Designer 7 is a powerful web editor that makes it easy to
create stylish, high quality websites, even if you've no HTML skills.
How easy? The program includes a Design Gallery that includes plenty
of sample websites. Find one you like, double-click it and a complete
multi-page site will open. Replace the text and images with your own
content and you're done - the site could be ready in under an hour.
The templates are just the start, though. You can also customise
your pages with new text panels, buttons, headings and more. The Design
Gallery includes plenty of attractive clipart, photos and icons that
you can drag and drop onto the page. And there are all kinds of effects
that you can apply to every area of a page, from giving text soft
shadows, to creating mouseover effects (changing an image when a mouse
moves over it, say), pop-ups (click a thumbnail to display the
full-sized image), transparency and more.
The site really gets interesting when you begin to add widgets,
objects that support some kind of dynamic content. There are widgets to
display "contact me" forms, media players, YouTube videos, Flickr
slideshows, Google maps, RSS feeds, your latest tweets or Facebook
updates, even chatrooms or your own forums. Just drag and drop the
widget you need onto the page, tweak its settings and you're usually
ready to go in a minute or two.
Once your site is ready, the built-in FTP-based publishing tool will
quickly upload the site to your server. But if you don't have a web
hosting account yet, that's not a problem. Web Designer 7 can also help
you create an account with Magix-Online that will give you 500MB of
server space and your own URL (http://yourname.magix.net/public) for
free
http://www.downloadcrew.com/article/20991-xara_web_designer
Artweaver Free 1.22
When choosing a graphics package it is
important to select the right tool for the job. Opt for too basic a
program and you may find that you do not have access to all of the
tools you need, while opting for a program which is more advanced can
mean a steep learning curve and great expense. Artweaver positions
itself neatly between the two, being both powerful and instantly
accessible for users of all levels of ability.
Full support for layers and a wide variety of brushes, along with a
range of effects filters, means that Artweaver provides you with
everything you need to get started on creative ventures. Brushes are
highly configurable so they can be tailored to very specific tasks
while support for transparency and the Photoshop PSD format means that
it is not only possible to generate very impressive results, it is also
possible to work with files that have been created in other programs.
A graphics tablet can be used with Artweaver to allow for greater
control over the tools provided, and completed projects can be saved in
a variety of popular formats. Upgrading to the paid for Plus version of
the program adds support for Photoshop plugins, and the saving and
playback of onscreen events - this can be used to demonstrate
techniques to others. With the Artweaver Plus, large documents can be
created and a great degree of control over brushes is available.
Verdict:
Free yet powerful, Artweaver is an accessible piece of software that makes it easy to get creative
http://www.downloadcrew.com/article/2424-artweaver_free
Adobe Project ROME Preview
One of the biggest hurdles anyone has to
overcome with technology is understanding how it works. You can
visualise what you want to achieve, but how do you obtain the skills to
turn your dream into reality? When it comes to content creation and
publishing, whether its web sites, newsletters, brochures, school
reports or work presentations, Adobe believes it may have the answer.
Project ROME aims to be an all-in-one tool for creating and
publishing all kinds of digital content for personal, business or
educational purposes. It's designed to simplify the process of
incorporating graphics, photos, text, video, audio and animation into
otherwise drab, mundane projects, and can be run through your web
browser or by installing a desktop application on your PC. If you opt
for the desktop application, you'll first need to install
Adobe Air
, a relatively quick and painless process; the web app requires
Adobe Flash Player
.
The program is designed to be user-friendly, and this is evident
from the moment you start using it: roll your mouse over the clearly
labelled Launcher Bar options to see related options pop up. Start with
a blank canvas or from a template, then start work using the various
tools at your disposal. Each project is made up of separate objects,
all layered over each other. You can then edit existing elements, add
new ones and basically drag and drop to your heart's content. Once
complete, you can publish your finished document in a number of
different formats, or publish it to the ROME website as a template for
sharing with others or as a finished webpage.
Project ROME is currently being offered as a
free time-limited preview
as Adobe searches for feedback and determines a pricing structure, which will come in the form of a monthly subscription.
Verdict:
Project
ROME succeeds in trying to simplify the process of creating
striking-looking content quickly, with intelligently placed options and
controls that don't require too big a learning curve to master. The big
litmus test, however, will come when Adobe settles on a pricing point
for it
http://www.downloadcrew.com/article/14997-adobe_project_rome_preview
http://www.downloadcrew.com/?act=search&cat=57
____________________________________________________



الجنس

:



عدد المساهمات

: 1115


النقاط

: 33135


التقييم

: 12


تاريخ التسجيل

: 2010-04-28




---
Permissions in this forum:
You
cannot
reply to topics in this forum