Jabbim is an Instant Messaging service. It allows you to send
messages to your friends in almost-real time. Jabbim services are free
of charge.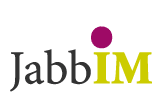 site
http://www.jabbim.com/
Modern technology


Jabbim is based on state-of-art messaging technology - the XMPP/Jabber
protocol. It allows us to get in touch wherever we are, no matter what
we are doing - sitting at our home desktop, travelling with a notebook,
using PDA in a tram or cell phone in the mountains.

Jabbim is a robust, secure service and uses encryption to protect your messages.

Mobility


You can use Jabbim services with just your mobile phone. Save on the SMS, pay for the real data transmitted.

Stability


Jabbim is amongst the world's most reliable XMPP/Jabber servers.

Interoperability


Since Jabbim makes use of the modern XMPP protocol, our users can
chat with users of other modern IM servers, like Google Talk,
LiveJournal Talk, WP Spik, Gizmo Project, Tipic IM, Jabber.org and many
others.

Moreover, users can access non-XMPP networks and communicate with their users via the gateways. Jabbim offers access to the closed networks like MSN, AIM, Yahoo! IM, ICQ, Gadu-Gadu as well as to the IRC.

Open solution


The use of the open, extensible and modern protocol - XMPP - gives
Jabbim and its users a great potential of services and the confidence of
compatibility.

Users can use services
such as saving up to gigabyte of data to the Jabber disk, sending SMS,
dicitonaries, TV schedule, weather forecast, train and bus timetables
and so on. Our developers are working night and day to offer Jabbim
users something new again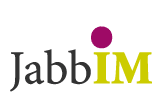 http://www.jabbim.com/



الجنس

:



عدد المساهمات

: 530


النقاط

: 28010


التقييم

: 7


تاريخ التسجيل

: 2011-03-05





Similar topics
---
Permissions in this forum:
You
cannot
reply to topics in this forum