alchemy |'alkemē
Figurative
: a process by which paradoxical results are achieved or incompatible elements combined with no obvious rational explanation
Alchemy is an open drawing project aimed at exploring how we can sketch,
draw, and create on computers in new ways. Alchemy isn't software for
creating finished artwork, but rather a sketching environment that
focuses on the absolute initial stage of the creation process.
Experimental in nature, Alchemy lets you brainstorm visually to explore
an expanded range of ideas and possibilities in a serendipitous way.
Alchemy is free software: you can redistribute it and/or modify it
under the terms of the GNU General Public License as published by the
Free Software Foundation, either version 3 of the License, or (at your
option) any later version.
Alchemy is distributed in the hope that it will be useful, but
WITHOUT ANY WARRANTY; without even the implied warranty of
MERCHANTABILITY or FITNESS FOR A PARTICULAR PURPOSE. See the
GNU General Public License
for more details.
Download BETA 008
Release Date: 07.01.2010
Alchemy for Windows
Alchemy for Mac 10.5+
Alchemy for Mac 10.4
Alchemy for LinuxVersion History
To see what has changed since the last version, check out the
Version History
Previous Releases
ALPHA 007 – 09.04.2009 –
Windows
–
Mac OSX
–
Linux
ALPHA 006 – 11.12.2008 –
Windows
–
Mac OSX
–
Linux
ALPHA 005 – 26.06.2008 –
Windows
–
Mac OSX
–
Linux
ALPHA 004 – 03.05.2008 –
Windows
–
Mac OSX
–
Linux
ALPHA 003 – 26.03.2008 –
Windows
–
Mac OSX
ALPHA 002 – 02.03.2008 –
Windows
–
Mac OSX
ALPHA 001 – 30.01.2008 –
Windows
–
Mac OSX
____________________________________________________
The gallery page displays imagery created using Alchemy as a starting
point. Where possible displaying the original Alchemy sketch alongside
the developed artwork. We will be adding more content to this page in
the future, so take a look at the
sketches forum
to contribute and see what other people have been making with Alchemy.
Andrew Jones
An image that begun life in Alchemy using
the 'Trace Shapes' module and was subsequently polished off in Andrew's
tool of choice,
Painter X
.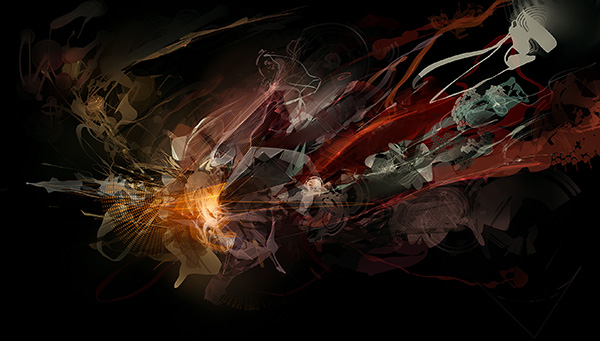 Chris Waller
The 'Doodle Bugs' series by Chris Waller all originated
from an Alchemy session file packed full of abstract forms, then
transformed into critters using custom brushes in
Photoshop
.
Jeffrey Lai
J4sonH4n
mr. mo
http://al.chemy.org/gallery/
____________________________________________________
Chaos Tools
Chaos Tools
Hallo and today we are going to create a design wallpaper using Alchemy
as our chaos shapes generator and Photoshop for adjustments and
coloring.
So let's start our tutorial from creating several chaotic shapes in Alchemy.
Step 1: Alchemy
Here is Alchemy main screen with working area. This is a very fun to use
application, i recommend you to try it. You can download beta 007 on
http://al.chemy.org/download
In - CREATE - you can find types of shapes you want to make. Try every
shape type to feel the difference. The sub panel shows you all the
settings of each shape - you can also modify each setting.
For example I did this shape using type shapes. Note that if you want to
use a shape in Photoshop in the future the best choice will be to save
(export) it like PNG with transparent background.
As you can see all the shapes react differently - for example this spike shape was created using Detach Shapes.
With Type shapes, line style - set to linear and Displace effect you can create quite interesting shapes.
So remember to save all the shapes as PNGs with transparent background.
Note that all my created shapes along with brushes will be in support
files folder for this tutorial. This is it for the part we played with
Alchemy, now it is time to drop into Photoshop.
First thing you got to do is to create a document - Fill the document with this low contrast yellow color.
Begin to drop down the shapes: each to a separate layer.
Shape 2 is dropped to a layer that is underneath the shape 1 layer.
Shape 3 has different color too and is dropped underneath all the shapes. this is the shape that is on image 05.
Line shapes can be dropped to any layer you want - because the lines don't doo much mess.
Flip to check the composition and drop the next shape we are going to use here - the shape created by Detach Shapes.
Then
drop another shape - this is actually shape2 ( the brown one ) with different color. I changed the color using Layer styles.
Create a new layer somewhere in the middle of the entire layer stack. Set the layer Blending mode to Overlay.
Select soft edged standard Photoshop brush. Set the flow jitter to about
3-7%. Pick the color you want to expose - meaning if you want to bring
more contrast to yellow pick up yellow. Stick to orange yellow gamma.
Expose the colors:
See those Line shape layers - double click on the layer to enter layer styles. Use drop shadow.
Click image to expand.
I also have this brush - that is like blood spot brush - let's call it
Spot brush. Create a layer underneath the overlay layer (the layer with
color) and use Spot brush just once or 2. As the Overlay layer stays
upper to the layer. We will use the color effect that will affect all
the layers underneath.
The next brush I'm going to use is the Whirl brush. Here are the
settings - some settings. You will have the brush as support file and
test is for yourself.
Here is the brush action. I also done and overlay with color attached to soft brush.
See the brush direction right here.
Ok, the next thing to do is to put some text there. Here is the text -
is says CHAOS TOOL. The one that is CHAOS has some effects on it; I've
done those using layer styles.
The bevel and emboss:
The inner shadow.
The lower TOOL line from the next - is colored orange.
Select all the shape 2 - the one that was brown in the very beginning.
Create a new layer on the top, but lower than the texts. Use Techno
round brush within the selection.
Click image to expand.
The final step is to use this very brush in this direction. Create a
layer underneath all. As it stays underneath the color overlay layer the
effect of the color affects it too.
...And this concludes our tutorial on design wallpaper. Hope you found something new for you.
View Full Size:
Alchemy - Chaos Tools
Download:
Support files
http://www.eyesontutorials.com/articles/5331/1/Chaos-Tools/Page1.html
____________________________________________________


Similar topics
---
Permissions in this forum:
You
cannot
reply to topics in this forum