The pen tool is, perhaps, the most bizarre and valuable tool Illustrator
has to offer. It places anchor points which define a path that, eventually,
becomes an object.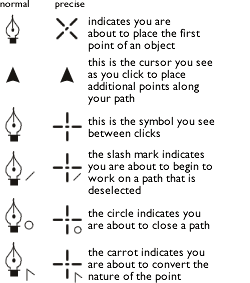 Anchor points define the path by controlling the angle of a corner,
or the shape of a curve. While it takes time to master this tool, it
is worth every minute of effort. The shapes you end up with are economical,
clean and precise.
(HINT: when you are drawing a symmetrical shape, only draw half of
it, and use the reflect/copy option to create the other half.)
Click the play buttons (below) to see how the pen tool works. You
can pause the movie at any time
PHASES OF THE PEN TOOL:
Depending on your preferences (under the Illustrator
menu), your pen tool will either look like an old fashioned fountain
pen icon, or a "precise cursor."
These symbols flash quickly as you're working, so it's
important to pay attention to make sure you're doing what you want
THE NATURE OF ANCHOR POINTS:


There are several kinds of anchor points - some are just
dots, others may have seesaw-like "handles" that protrude
from them. The most important thing to remember when editing points,
or an object, is that it has to be selected before you can affect it.



CORNER POINTS:


Select the pen tool and click within your image area.
Move the pen tool icon and click again.




Remember you can use guides dragged from the ruler to
position anchor points with precision.



Clicking places corner points, and as you click around,
Illustrator connects those points with lines, called "strokes" when
they are assigned a color and weight, or "paths" when they
define an object or shape.




Adjust the position of anchor points with your hollow
arrow (direct selection) tool




more...........


http://school.tatoland.com/illustrator/aipentool.html






..





الجنس

:



عدد المساهمات

: 843


النقاط

: 31179


التقييم

: 10


تاريخ التسجيل

: 2010-09-01





Similar topics
---
Permissions in this forum:
You
cannot
reply to topics in this forum